If you're tired of seeing others skyrocket to the top with confidence while you scrap & claw your way through each day riddled with doubt, keep reading…

Building a business is hard work. It's no secret that you have to learn so many different skills–marketing, video, and tech stuff. Let's not get into the challenges you might face.
But if you truly want to become–and feel–wildly successful, you also have to transform your relationship with money because if money is the one thing that's holding you back, then money will always be the thing that's holding you back.
Growing your income – and creating true financial stability

Making a positive impact in the world (on a bigger scale than ever before)

Feeling energized + inspired every single day

Being in your greater purpose + Living in full alignment with your truth

Have more fun, connection and creativity in your day-to-day life
THEN THIS PROGRAM IS RIGHT FOR YOU!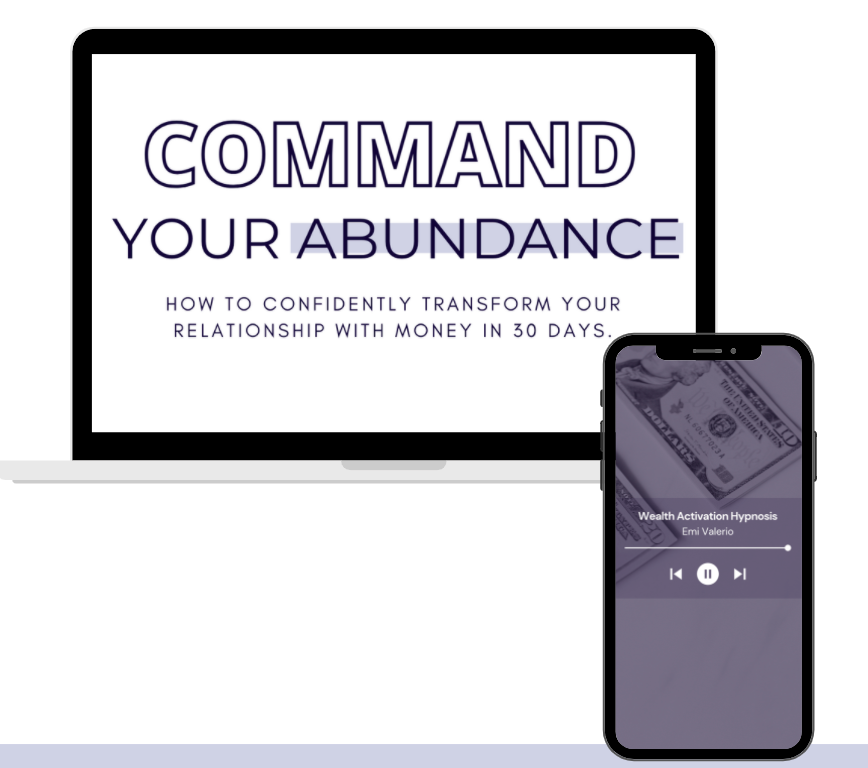 This 30-day group coaching program designed to help you create income and impact by

REWIRING

any limitations standing in your way of

RECEIVING

financial abundance!
Gain the confidence you need to charge what you're really worth (it's probably at least double what you're currently charging)

Set—and achieve—those really BIG goals that you see so many other coaches making (Travel more? Yes! Speaking engagements? Absolutely! Time for charity work? You better believe it!)
Let go of the scarcity mindset so you can reach for your dreams with confidence and determination (rather than shrinking back in fear).
Sound good? Here's what's in store for you..

✧ 4 jam-packed, 75 min session, detailing the powers of Releasing, Rewiring, and Receiving.
✧ Money Flows Through Me Meditation
✧Exclusive Support Group for support and extra advice + coaching
✧ Workbooks and homework to help you dive deeper
✧ Lifetime access to the program
✧ Plus bonuses worth over $700!
Inside the program, you will find...
In this session, we will discover the money stories that keep you stuck and stagnant. If you are not making your income goals this session will get to the root of your money story so you can finally release the barrier once and for all!
PART ONE: Release and Rewrite Your Money Stories
PART TWO: SAY BUH-BYE TO MONEY STRESS
In this session, we will be creating systems in place to end money stress once and for all. With these systems in place, you can finally concentrate on growth instead of survival, and that's a great place to be!

PART THREE: Bust Through Your Money Blocks
In this session, you will banish any pesky stories like "I can't make money doing what I love" or "I have to work really hard for money" or "I can't charge for this, no one will buy it". Finally, bust through these blocks using my Money Banisher Code!
PART FOUR: LOVE YOUR MONEY HONEY!
In this final session, you will learn how to receive. You will begin to create your life, reality, and financial future with a brand new identity. You'll finally be able to enjoy the financial freedom you've worked so hard to achieve. And best of all, you'll be a lot less likely to revert back to those negative beliefs that held you back for so long.
✓ Confidently ask for the sale and close daily
✓ Attract soulmate clients
✓ Step into your power + stop stressing over money
✓ Rewire the meaning you give money
✓ Receive in abundance with ease, grace, and flow
✓ Finally, take that vacation you've dreamed of
How amazing does that sound? But that's not all you also get...

✧ The Sales Script Formula Masterclass ($397 Value)
✧ 2 EFT Videos to Activate Abundance ($222 Value)
✧ Abundance Tracker. To help you keep track of all the abundance your calling in ($97 Value)
✧ Abundance Attraction Phone Wallpaper ($17 Value)
* The total value for the course + bonuses is over $1500!*
MANIFEST

your financial goals rapidly
ELIMINATE

your financial & emotional abundance blocks
BREAKTHROUGH

those glass ceilings to get to your next-level Income
SPEED UP

the process of hitting your financial targets!